Happy greeters are always a nice introduction to a friendly event and today PP BOB ADAMS, GARY WALDECK and MIKE KING welcomed each person jubilantly with a hearty handshake.
Around the corner in the big room PP CYNTHIA LUEDTKE was busy juggling money for individual luncheon fares for a full house with scholarship winners and their parents.
President JOHN SYLVESTER said it would be an exciting day and the highlight of the year for the today's meeting.After the usual Rotarypast president leading the salute to the flag,HARRY PRICE offered the thought of the day by Winston Churchill.
Winston Churchill's brainy quote was "A pessimist sees the difficulty in every opportunity: and optimist sees the opportunity in every difficulty."
Song of the day was a treat by MARK ROGGE with his original song on the Los Altos Rotary Fine Art show. With original lyrics to the tune of Camptown Races, Mark led us through the Art Show with his original words interspersed with the occasional "Doo-da, Doo-da Oh, de doo-da day".
PE JACK KELLY found one visiting Rotarian, Timothy Kimkin of Washington State. Rotarians with guests were BONNIE BURDETT, DAN HOLDEN, and MARK ROGGE.
Announcements: PE KENDRA GJERSETH is the only female golfer signed to date for the upcoming Rotary Golf Tournament on June 7th. She needs female company among all those bragging men. Four Rotary Clubs are invited for the June 7th tournament at Shoreline. Price is: $75 for golfers and $45 for dinner and poker.


FRANK ELMER still had open positions for Fine Art in the Park and when you read this I hope they were filled. And BARBARA SMALL was still pushing raffle tickets to raise money for WCS, and I hope she had success.
GARY WALDECK is short of Rota Care drivers and was passing around a clipboard for help.
PP MONA ARMISTEAD reminded us about the formal part of the upcoming kick-out on Friday June 28. Members get in free, but accompanying guests are $75. Every Rotarian should attend this party.


KATHY BERRY reminded us about the upcoming Relay For Life. There are still sign-ups available and there are still openings for the luminaria for previous remembrances.


With time still available before the main program, President JOHN SYLVESTER turned the program over to DAN HOLDEN to fine additional members and increase membership to the President's Club.
In the volunteer section, DENNIS YOUNG provided information that at a meeting with the IRS in Washington D.C., LONNIE GARY was made President Elect of Enrolled Agents. And Dennis paid.

JEAN MORDO thanked JEANNE MacVICAR for selling his house in LAH for above list price in just eight days. JEANNE should pay the fine because she got the commission.
JACK HIGGINS paid because his daughter got married.
HINDA WEBER introduced two new students that should be on the program today.
CYNTHIA LUEDTKE is seeking a change of classification because of a new endeavor for which she joined the President's Club. Can we fit in "Sales and Distributorship for Nano-technology Coatings" on that badge?
The following Rotarians paid up to get closer to be a member of the President's Club or became a member: JOHN SYLVESTER, JEFFREY BAIER, STEVE ANDERSON, TINA PIERCE, HARRY PRICE, MARK ROGGE. GREG DABB is already there, but paid additionally with good thoughts and announcing his new office location.
THE 2013 LOS ALTOS ROTARY SCHOLARSHIP PROGRAM


Each year the Los Altos Rotary club provides scholarships to local schools through a long series of interviews and official school information. The scholarship money ($16,000) comes from the Art Show held each year in May.
With the help of the Mountain View Roundtable and registering on the Internet, there were originally 73 applicants.
Scholarship committee representative LEW FRASER explained that each applicant must have a 3.0 GPA and a financial need. Twenty-eight candidates were interviewed in four days and the scholarships were fairly distributed among the schools.
ROTARY OUTSTANDING STUDENT AWARDS:
The program started with outstanding students from intermediate schools. Scholarship student winners in this class were given a certificate of accomplishment and $50.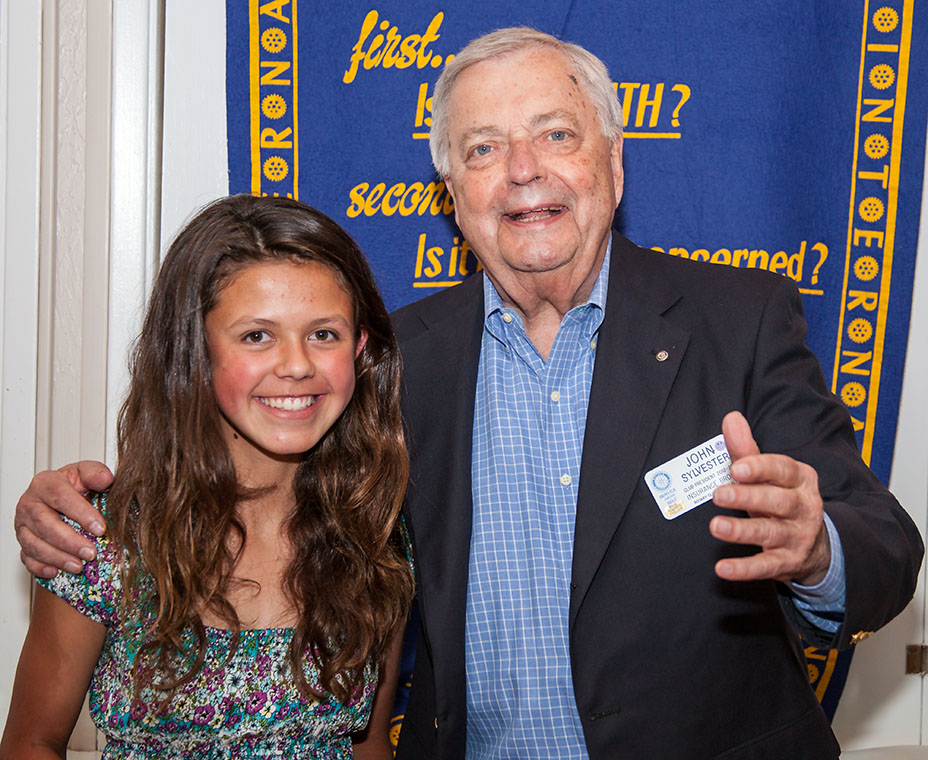 EGAN INTERMEDIATE SCHOOL winners were Katia Gibson and Zack Kaplan. The two deserving students were introduced to the Los Altos Rotary Club by Egan Principal, Brenda Dyckman who has been giving this award on behalf of Egan for 22 years in a row.
BLACH INTERMEDIATE SCHOOL winners were Douglas Curtis and Julie Daseking and introduced to the Club by BLACH Principal, Sandra McGonagle.

LOS ALTOS ROTARY ACADEMIC SCHOLARSHIP AWARDS:
In the High School scholarships the awards were higher. Each winner received a certificate and the dollar amount ranged from $800 to $2500 commensurate to need.


ALTA VISTA HIGH SCHOOL: Principal Doreen Bracamontes introduced two deserving student winners and discussed their history.
Mike Aguilar. "If he sees a need he will help other students. His desire and commitment was outstanding. He wants to be a paramedic firefighter"
Marissa Mason: "She has been through the foster care system and gives time for other students. She loves to write fiction."


MOUNTAIN VIEW ACADEMY: Dan Meidinger, principal of the Academy, introduced Jasmine Sanchez as an outstanding student who will continue her education at Pacific Union Academy.


MOUNTAIN VIEW HIGH SCHOOL: Assistant Principal Donna Peltz introduced four of her outstanding award-winning students. She commented and complimented each student.
Sydney Magana: "Her driving force was to introduce cheer leading as an academic credit. Always helping students and tolerant of other students she will attend the University of Utah."
Timothy Young: "Taught himself French and English and is fluent in Chinese. He will attend the University of California at Berkeley."
Viet Nguyen: "A leader with high morals. He is the editor of the school paper and discoverer of new ideas. He will attend Brown University."
Kristen Redaniel: "A confident intuitive and warm person. Kristen will attend Elmira School in upstate New York in the fall."

Billy Russell Scholarship Award
A former Rotary president and president of El Camino Hospital, Billy died in 2008, the year this scholarship was first established.
ST Francis High School counselor Sally Leitch spoke about Kimberly Kaiser, the winner of the award. "A 4.0 student who was committed to scholarship; a doer and a fighter, she will attend Fordham University on a complete scholarship."
Charles Cowan Scholarship for Science and Technology
Charles Cowan beloved husband of MARLENE COWAN, was a nuclear engineer. In his memory, Marlene established this scholarship for many years now. MARLENE was unable to be at the meeting, but her son, CHRIS, an engineer himself, presented today's award.
LOS ALTOS HIGH SCHOOL Assistant Principal Christy Dawson had high praises for Sung-Yee Guo. "Guo had a perfect 8.0 math result on his SAT test. He performed at the highest academic level and was self-directed. Having an internship with NASA, Guo will now attend The University of California at Santa Barbara."
Rotary President JOHN SYLVESTER hit the Rotary bell at 1:25 and told everyone to have a great day--unless other plans were made, of course
!